A high old musical time with 'Madness' | Philadelphia Inquirer | 09/16/2008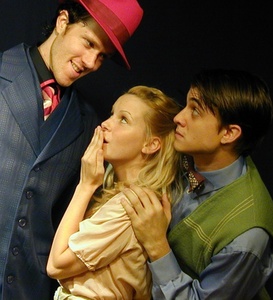 Howard Shapiro, Inquirer Theater Critic, viewed the recent Sunday matinee and gives both good press and some background info in his September 16 review. Read on!
---

By Howard Shapiro, Inquirer Theater Critic





You can thank Harry Anslinger, America's first commissioner of the Bureau of Narcotics, for unwittingly giving us one of the goofiest of all midnight movies,

Reefer Madness

. He was the man who forcefully brought a message into American homes, schools and law books: Marijuana = Evil.

When I was growing up in the '50s, Anslinger was a hero in Altoona, Pa., his hometown and mine, where his name was spoken with a reverence otherwise reserved for saints. But in the '60s, when that reverence began to be transferred to astronauts, a lot of people were walking in space without benefit of spacecraft - and to them, Anslinger was a heavy.

It was about then that the ridiculously overwrought 1936 film Tell Your Children - about nice all-Americans who become crazy at the merest whiff of pot - began its path to cult-filmdom under one of its new names, Reefer Madness. The madness continues, now with song and dance, in a rollicking theatrical head-trip at Montgomery Theater in Souderton. There, a cast as handsome as it is gifted wrings every bit of exaggerated madness from Reefer Madness, the Musical - especially from its many production numbers.

Lust, crime, sorrow, hate, shame and despair are the cautionary nouns lining the curtain, and director Megan Nicole O'Brien makes sure you cringe - with laughter - at their collective impact. She creates a contact high without so much as a real toke, as characters take cartoon puffs from chair-leg-length stage reefers, or find themselves face to face with Jesus (who takes Anslinger's side), or dance through foggy hazes to Samuel Antonio Reyes' joyous choreography.

Essentially, it's a one-joke show, mocking Anslinger and anyone else who believes marijuana poses the same threat as hard drugs. Kevin Murphy and Dan Studney's 2001 score makes it close to a one-tune show, too.

But the music's catchy, and the creators give their characters showy spotlights in each act - enough for each main cast member to bogart the joint production (Montgomery Theater and the 11th Hour Theatre Company), which moves to Center City next month, after its Montgomery County run.

Mirroring the movie, the musical is set in a high school gym, where the evening's lecturer (Steve Pacek, wonderfully full of finger-pointing at every possible breakdown in society) leads a drama troupe in the tale of sweet Jimmy Harper and Mary Lane, who end up stained, and worse, by grass.

Noah Mazaika and Laura Giknis are adorable as the kids who fail to despair; Jennie Eisenhower and Joe O'Brien portray smoke-den operators with an ironic good-cop/bad-cop sensibility. Alex Keiper's a bad mama who can't live a second without weed, Tom DelPizzo is wonderfully goofy as several characters, and the deadpan Laura Catlaw carries admonitory placards throughout. Add a cool ensemble, exuberant voices, a five-piece band, and Lauren Perigard's costumes - made for ripping off to reveal plot swings - and you're a real square if you can't get a buzz.

---
There's still time to see the show in Souderton or reserve your tix for the second half of the run in Philly!
Reefer Madness, the Musical

Through Oct. 4 at Montgomery Theater, 124 Main St., Souderton. Tickets: $19-$33. Information: 215-723-9984 or www.montgomerytheater.org. The joint production with 11th Hour Theatre Company will play Oct. 9-Nov. 2 at the Philadelphia Shakespeare Festival Theater, 2111 Sansom St. Tickets: $22-$25. Information: 267-987-9865 or www.11thhourtheatrecompany.org.