The Philadelphia Inquirer has a nice
review
of Montgomery Theater's production of PICNIC.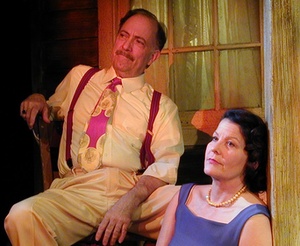 Tim Moyer (left) as "Howard" and
Hayden Saunier as "Rosemary"
in Montgomery Theater's production of "Picnic."
Fine cast sets the table for '50s flashback, 'Picnic'
Small-town Kansas in a '50s summer: The heat is oppressive, the mores repressive, and the level of angst impressive. It's no picnic.
That's Picnic, in a Kansas kernel. The themes that struck playwright William Inge's 1950s audiences may not seem as urgent or provocative now - rampant alcoholism is a consistent plot hinge - but his stories are well told, and command another look.
Picnic, in a wonderfully acted production that opened Friday at Montgomery Theater in Souderton, follows the just-ended Broadway revival of Inge's Come Back, Little Sheba, which has some of the same themes and was also a thoughtful re-creation of another time in America.
In the Montgomery's staging of Picnic, by artistic director Tom Quinn, you can almost hear the '60s trying feverishly to burst out of that era. Quinn assembled top-notch cast members who play the middle-American '50s as if they'd gone back in time to live it before assuming their roles.
Here is the schoolteacher (Hayden Saunier) who matter-of-factly calls herself an old maid; she's desperate to marry a boozing merchant (Tim Moyer) who's more like a brother than a boyfriend. The teacher boards with a single mother (Catherine Rush) who tries to forget her own alcoholic no-show husband. She battles the onslaught of '50s culture to raise her two teenage daughters right.
One is a brainy tomboy (Caitlin Elizabeth Reilly), the other the town beauty (Meghan Heimbecker). A pretty girl's future? Mom, with pre-feminist absolutism, sees only one road to success: a rich guy ("you'd have credit cards in all the stores"). The rich guy in question is a preppie big-man-on-campus (Joe Mallon).
Dressed in Courtney Shea's period costumes, they all live in the comfort of their hangups until a big-hearted and highly repressed neighbor (Mickey Goldhaber) hires a super-stud drifter to clear her yard, and he meets the two girls. Hal has a past, we quickly learn, with the preppie boyfriend and also the bottle.
It may be typically hot in small-town Kansas in summer, but on this particular Labor Day weekend, things are about to blister - '50s-style, of course: full-frontal desperation.
Picnic marked the Broadway debut, in 1953, of a kid named Paul Newman as the preppie. The 1955 movie version paired Kim Novak as the pretty daughter and William Holden as Hal. The play's a performance showcase for anyone playing Hal, who is both vulnerable and macho, a braggart compensating for a deficit in self-confidence.
Evan Jonigkeit, in the Montgomery Theater production, is outstanding in the role - strikingly good-looking, and he moves through A. Clark Duncan's front-porch set with the natural grace of a racehorse. You can sense his Hal thinking about how he's going to win people over - or how he has, once again, lost their goodwill.
And, in this production, you can sense something even Inge may not have realized when he wrote Picnic: Change is coming, and there'll be no going back.
Originally Posted to Philly Inquirer website:
http://www.philly.com/inquirer/weekend/theater/20080422_Fine_cast_sets_the_table_for__50s_flashback___Picnic_.html
Related posts: