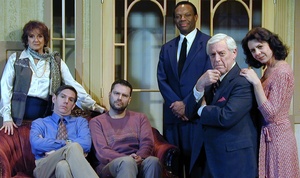 The cast of

AFFLUENZA!
I have found only two reviews thus far. Both are, for the most part, favorable.
In infectious 'Affluenza!', they're rhyming all the time

-- by Howard Shapiro for the Philadelphia Inquirer. This time around, Shapiro seems happy with both the script and cast's performance, although Tom Tansey receives a jab.
Catch 'Affluenza!' at Montgomery Theater -- Carrie Compton, Staff Writer for the Montgomery County News, maintains that Affluenza's "rhyme and reason will tickle your tears". This is a wonderful review that even mentions the music selection in my sound design. Woo hoo!

We are coming up on the final two weeks of the run. Get your tickets now before you miss out! 215-723-9984 or
www.montgomerytheater.org
.